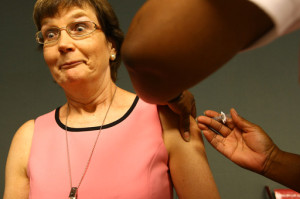 From our experience, preventive care is loosely understood. By law, preventive care is now required to be covered 100% by all insurance policies. On the surface preventive care can refer to things such as a regular check up from your doctor, immunizations, screening for sexually transmitted diseases, and smoking cessation among other things.  Let's take a closer look.
Something to remember and take note of is that services are only considered preventive care if there are no existing signs or symptoms that may point to an underlying condition. To put it simply, in most cases if you are going to see a doctor for a specific reason and not just because it's that time of the year again, this does not qualify as preventive care and is not required to be covered 100% by your plan. An example would be if you went to a dermatologist to get that suspicious mole on your arm checked out. There are two things that would disqualify this visit as preventive care: 1.You have a mole that you find unusual. This means that it is an existing sign or symptom of a problem and therefore you are no longer preventing and ailment, but rather confirming it and 2. You are going to see a specialist. The majority of preventive care is performed by your primary care doctor. In all cases we recommend consulting your plan details for specific coverage information, but we want you to be aware of these common mistakes when going in for something such as a skin cancer screening and to check your plan so that you aren't hit with charges that you maybe didn't see coming.
Also remember that plans change from year to year and the laws have been altered significantly since the implementation of the Affordable Care Act. Some things that may have been considered preventive care in the past may or may not be covered anymore. It is always important to be up to date with what your plan offers so that you do not get hit with unexpected charges.
When you go in for a preventive care visit it is important to stick to the "preventive" agenda. This may sound obvious but it's a situation that many find themselves in. You go to the doctor for your check up. Your doctor performs his or her duties and just before it's over he or she asks you the question "Is there anything else you would like to talk about?" If you answer yes, he or she may perform more tests or examinations, turning a "100% covered visit" into merely a "covered visit" and it is important to understand the difference. In this case you may be thinking that getting something looked at right then and there will save you time. After all you already scheduled the appointment, made the trip out there, checked in, and sat in the waiting room until you were called. Might as well get something else checked out while you're there. Sounds like a great idea, but be aware that this part of the appointment may now be considered an office visit for illness or injury. If so, your office visits benefits will apply.
Preventive care visits are great for testing your vital signs and letting you know if you are within an acceptable range for your age and gender and they can help detect any issues before they blossom into full blown disease, but as far as keeping you healthy, there is very little one of these visits can actually do. Some things that you can do to complement your preventive care are to eat healthy, stop smoking, and exercise more frequently. These activities coupled with routine checkups can help prevent you from getting sick and can keep money in your pocket too!