In order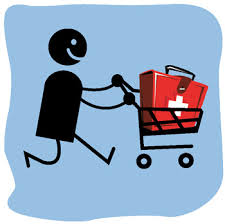 to fully understand the differences between private and public health insurance exchanges, it is helpful to discuss the idea of an exchange at its most basic level. An Insurance Exchange is a marketplace where all the insurance carriers showcase their products to you, the consumer. Think of it like a Farmers Market. All the insurance companies are there and they have a booth set up and they are displaying their crops (or in this case, policies) for you to look over and decide if it is worthy of your hard earned dollars.
It is not a new or cutting edge idea although it may seem that way because there has been a great deal of emphasis put on them from the Affordable Care Act in recent months. These marketplaces are not physical in the sense that you can't hop in your car, drive down to 3rd St., pick out a policy and put it in your earth friendly reusable burlap shopping sack. These are online Marketplaces and the storefront is digital.
There are two types of marketplaces that are developing as a result of these new sanctions: The public and the private. But what is the difference? Well in all honesty it depends on what you are looking at. In the most basic sense of the word, these marketplaces share some similarities. They both have different plans and policies that can be viewed and selected at the consumer's discretion.
The main difference between these exchanges is that the public exchange is run by the government (whether the federal or state depends on where you live). The public exchange is afforded a luxury that the private exchanges do not have with the offering of premium tax credits.  A Premium Tax Credit is money that is allocated to individuals that need assistance paying their monthly premiums. You can find out if you are eligible for this assistance by checking out our Premium Tax Credit Calculator located on our website.
Private Exchanges like Insureasy.net cannot offer any kind of payment and assistance for your health insurance but what they can do is they offer a wide variety of policies with a wide variety of benefits and prices. Additionally, the applicants information is only shared with the insurer rather than additional government entities. When you enter your information into the public exchange, it goes to various State and Federal Agencies for verification, such as the Internal Revenue Service and the Department of Health and Human Services. Best of all, at Insureasy.net there are experienced licensed agents ready to assist you, should the need arise!
For some, there seems to be a stigma surrounding the words "Public V. Private" but we assure you that the preconceived notions that surround these words does not apply to the nature of the exchanges in the health insurance world. As explained the words "Public" and "Private" merely refers to the entities that operate the exchanges and not to who can join. Anyone can shop using either exchange, but it depends on your level of income as to whether or not you are eligible to receive help from the government in paying your premiums.
So don't be intimidated by the language surrounding these Marketplaces. You are not alone in your quest for health insurance and as always we here at Insureasy.net are here to help! We have the tools and resources to help you through your experience and to get you the coverage that you need at the price you can afford!