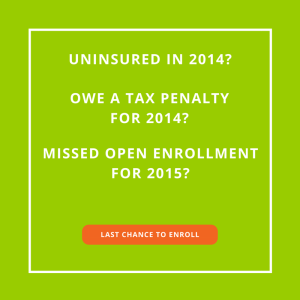 BlueCross BlueShield has opened up a special enrollment period for Minimum Essential Coverage for people that meet certain requirements, mirroring the Special Enrollment Period from MNsure. An individual or family will be eligible to enroll in any Major Medical Policy if they meet four requirements:
Must have gone without Minimum Essential Coverage in 2014 for one or more months, that does not qualify as short term stop gap coverage.
Cannot be enrolled in a minimum essential coverage plan for 2015.
Must be subject to a tax penalty for going without insurance in 2014.
Was not aware or did not understand the tax implications of not having insurance for 2014.
The enrollment period began on March 1st and will run through April 30th with April 1st effective dates available for people who enroll before March 15th. All applications must be filled out on paper as BlueCross BlueShield will not be accepting online applications for this enrollment period.
If you think that you may be eligible and would like to know more, please give us a call. We can help you determine if you fit the criteria and we have paper applications available for anyone that would like to take advantage of this offering.
If you have any questions about your health insurance, please feel free to contact us.