In the world of health insurance, there are quite a few terms that are often misconstrued or misunderstood by the general population. Amongst those are deductible and out of pocket maximum. Let's take a closer look at these and see if we can't make some sense out of them and figure out which one is most important!
A deductible is a dollar amount that refers to the amount of money that you must pay before your benefits kick in. For example if you have a $2,000 deductible with a $3,500 out of pocket maximum and had a claim for $2,700, you would be responsible for the first $2,000 dollars before your benefits would kick in.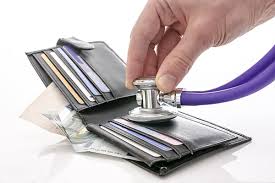 Some plans will have what is called a copay which is where you are responsible for a certain dollar amount, and the insurance covers the rest. This can sometimes have a limited amount of uses (for instance 5 office visits will be covered under a copay) and after the limit you will be responsible for the full visit, thus going towards your deductible. Also any additional services received during the office visit may not apply towards your deductible. Imagine that you are going to a concert. You often times have to pay a cover charge to get in. This is like your copay. Then any additional things that you may buy at the concert like t-shirts or food will be charged extra. This is like shots or additional tests etc.
Once your $2,000 deductible is reached then your benefits will begin. Often times insurance companies will have what's called "coinsurance" which is when the company will pay the majority of the costs after the deductible but not all of it. As an example, let's take the numbers we used before and say that you have a $2,000 deductible with an 80/20 coinsurance plan. That means that after you reach your deductible all additional charges will be covered by your plan at 80% of the cost. So on that $2,700 claim, you would be responsible for the first $2,000 no questions asked. The remaining $700 would be split by you and your insurance company at an 80/20 rate, so by my rudimentary math skills that would mean that you would pay $140. This splitting of costs would continue until you reach a threshold known as your "annual out of pocket maximum".
Out of pocket maximum is exactly as its name would allude to. It is the most that you would be required to pay in a given year on covered services. Once this threshold is reached, your insurance company will cover whatever costs you may incur for the rest of the year until the end of the plan year as long as it is an eligible expense.
Continuing with our example, this would mean that you are responsible for the first $2,000 at 100% (Unless it is an office visit covered by a copay).  Then after that you would be responsible for all other costs at a 20% rate until you have paid a total of$3,500, out of your pocket.
As you can see, there is a great deal of room for confusion. Many people confuse a deductible as being the maximum amount of money that you will pay but as we have shown this is not the case. In most cases the out of pocket maximum can play a larger role in your benefits than your deductible. Just because a plan boasts a low deductible does not necessarily mean it will have a low out of pocket.
Pay attention to what a plan offers in benefits and make sure that you understand what all of the terms mean before you go ahead and purchase. If you have any questions regarding a policy, don't hesitate to give us a call!